Are You Looking For The Best Barnes Office Cleaning Services? You Have Already Found It With Our SW13 Cleaning Company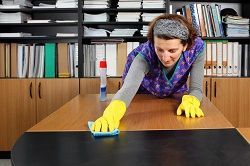 Getting your office into tip-top shape is important not just for the appearance of your business and the efficiency of how it runs, but also for the health and wellbeing of you and your employees. Your office building can be a breeding ground for bacteria if it's not properly cared for, and this can affect everything from your employee sickness and absence levels to the efficiency of your computer equipment. If you're concerned about your office cleaning needs and you're looking for a Barnes office cleaner, contact Barnes Cleaners today on 020 8610 9122 to find out how we can help you.
Your computer mouse, computer keyboard, telephone and headsets can all harbour shocking amounts of bacteria and germs, especially if your equipment is shared between employees, which can lead to an increase in sickness levels in your office. Hiring our professional SW13 office cleaning team is a great way to ensure your office is as bacteria-free as possible. Our staff use a wealth of knowledge and experience when it comes to office cleaning SW14 to get your office sparklingly clean. At our company we use only the best products and techniques that are going to be safe for use on your office equipment, so you need not worry about accidental damages. Call us now on 020 8610 9122 for more information.
Expert Office Cleaning in Barnes SW13
Dust, dirt and particles of grime can all become trapped and clogged in your office equipment, which have a direct affect on the longevity of the product. Our company's SW15 office cleaning teams are experts when it comes to dislodging dust from the nooks and crannies in your office. Having your computer equipment cleaned thoroughly and regularly could improve the performance of your office electrical which could save you money on expensive repairs and replacements. If you aren't satisfied with your current SW13 office cleaners then contact our company today!
From general tidying to thorough cleaning and stain-removals, there's nothing our professional SW14 office cleaners can't handle – no matter how big a job you may think you have on your hands! Our company's efficient, unobtrusive and speedy SW15 office clean truly is an unparalleled service when it comes to office cleaning Barnes. We work hard to bring you the most affordable and fantastically competitive prices in the area, so if you're looking for office cleaners look no further than our company!
Our Office Cleaners Are the Best Professionals in Barnes
Fantastic cleaning services don't have to cost you the earth. At our cleaning company Barnes we strive to bring you great prices for our flawless service. Keeping your office clean, tidy and hygienic has never been easier or more affordable, so even if you're on a budget there's definitely a way our company can help you and your employees!
It doesn't matter what your office cleaning needs are, there's no way you'll be disappointed with our cleaning service. Maybe you're looking to find a better-value-for-money cleaning company for your office? Perhaps you aren't happy with your current office cleaners? Or it could be that you've only just set-up your business in the Barnes area? No matter what your reasons are, if you're looking for office cleaning look no further than Barnes Cleaners. Our friendly and experienced staff can turn your office into a professional and bacteria-free work environment for you and your employees, so call us today on 020 8610 9122 for more information about our great prices and Barnes cleaning services.